Raging wildfire threatens to engulf 12,000 homes near Los Angeles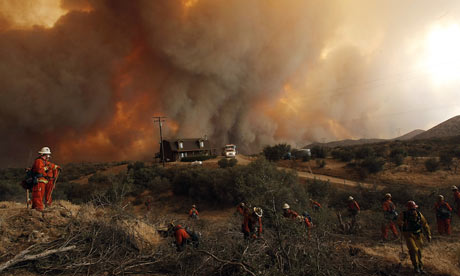 A huge wildfire was threatening to engulf 12,000 homes in the Los Angeles area today along a 20 mile (32km) front that was also advancing on a mountain top broadcasting complex and historic observatory.
At least 6,600 homes were under mandatory evacuation orders and more than 2,500 firefighters were battling the flames. Two firefighters were killed at the weekend on the blaze's north-western front when they lost control of their vehicle.
The fire had already burned at least 18 homes and 134 square miles of brush and trees and was moving north, south and east through the foothills north-east of the city. It was only 5% contained and was feeding on dry brush that had not burned for 40 years, fire officials said.
"It's burning everywhere," US forest service spokeswoman Dianne Cahir said. "When it gets into canyons that haven't burned in numerous years, it takes off. If you have any insight into the good Lord upstairs, put in a request."
Five people who refused to evacuate threatened areas reported they were trapped at a ranch near Gold Creek, Los Angeles County sheriff's spokesman Steve Whitmore said. A sheriff's helicopter was unable to immediately reach them because of intense fire activity, Whitmore said. Over the weekend, three people who refused to evacuate were badly burned when they were overrun by flames, including a couple who had sought refuge in a hot tub, authorities said.
More than 20 helicopters and air tankers were preparing to dump water and retardant over the flames.
With flames only a half a mile (800m) away from the communications and astronomy centres on Mount Wilson, crews planned to set more backfires and planes dropped fire retardant around the complex, which holds transmitters for scores of television stations, radio stations and mobile phone providers.
Snip
With a super wet February followed by a long dry summer much of California is set up for an epically rotten wildfire season. Did we mention the Golden State is so broke that it can't pay attention?